Kristi Kerr Leonard
Kristi began her official backyard birding career while she was caring for her young children in 1999. She was blessed that her Bluffview home was close to a small bird sanctuary on Cochran Chapel and on Backman Creek with easy access to water for all wildlife. The former homeowners had installed industrial size birdfeeders which had been maintained for many years. Watching the amazing number and variety of birds with a baby in arms, a three-year-old playing nearby, binoculars in one hand and a pen and "Stokes Field Guide to Birds" in the other hand, kept a very active person sane, her babies fed and her love of observing bird behavior began! Kristi found David Hurt's store close to her home and went weekly to obtain "Cardinal Blend". With her field guide always along, she asked countless questions of their excellent staff – most of who are still with the owner, David Hurt, after all these years!
Born and raised in Oak Cliff on Crow Creek (an offshoot of Five Mile near Lower Kiest Park) Kristi, her two big brothers, and the neighbors spent every afternoon in the creek - building forts and high swings. Kristi "studied" plants – always yearning to know more. Her older brothers lined the creek with metal trash cans and caught snapping turtles and snakes to study before releasing. The only two rules given to her by her mom was "don't put your hand close to a snapping turtle" and "be home by dinner."
Her love of nature was nurtured by being in a dedicated Scouting family including many campouts, Philmont and even beehives on the creek. Kristi raised her two children, Kiara and Killian, close to nature by always living on a creek, being in scouting and sending them to excellent schools with very strong outdoor programs, Good Shepherd Episcopal and the Episcopal School of Dallas.
Kristi's professional career has been in business, advertising, and marketing with a focus on working with high net individuals. Her undergraduate degree was from The University of Texas at Austin in Spanish and History, and she has an MBA from Thunderbird in International Business. She recently went to SMU to take a year course on digital communications and social media.
Kristi found her true tribe by joining North Texas Master Naturalists in 2013. In this program, she has had the benefit of learning about ornithology from many experts. She currently leads adventure hikes in the Great Trinity Forest and Full Moon hikes upon request by various Dallas area nature centers.
Joining David Hurt as Marketing and Education Director has been a dream come true – connecting business to nature. She feels she is in the perfect place to educate people about the importance of caring for our environment thru the joy of back yard bird feeding. She is looking forward to assisting her hiking friend, David Hurt, in building an education program at his store, and assisting him in his philanthropic endeavors at Dogwood Canyon Audubon Center.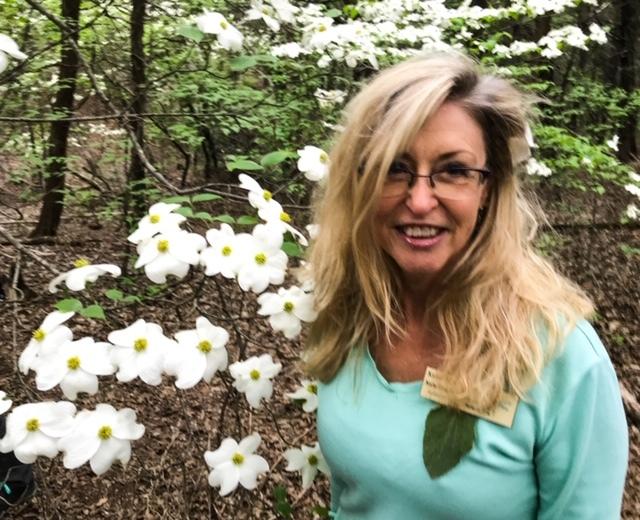 Favorite Feeder Bird: Titmouse, I have always been fascinated by this little bird and it is the first one I learned to ID - beyond the basics. The tuft on its head makes it an easy bird to ID for a beginner. I also like how little and sleek it is. I like how it flits around and I like how it takes its food to a nearby branch and knocks it around!
Favorite Food: No question about it, I like the No-Mess, No Millet Blend because I have had many years of issues of sprouting seeds, horrendous messes under the feeder and then a terrible rodent problem. The No-Mess, No Millet Blend has taken care of all those issues.
Favorite Bird Feeder: SquirrelBuster Plus by Brome. Yes, I have a very determined acrobatic squirrel that I don't wish to feed. I am also really enjoying my first Peanut Feeder.
Favorite Bird Experience: One of the first nights in my new East Dallas home I was sitting on Ash Creek, in my backyard, and two red tail hawks swept down in front of me and flew along the creek! Native Americans consider this a good omen and I sure believe that was true. Indeed, it has proven an excellent omen - my adult children and countless friends have enjoyed "The Creek House" immensely.
Another favorite bird experience has been teaching juniors at my daughter's former high school (The Episcopal School of Dallas) about woodpecker behavior. They are always awed by the neat horizontal lines on the tree.
Bird Dream Come True: After joining Wild Birds Unlimited in early 2019, I took a trip to India with my church, First Unitarian Church of Dallas, to start a partnership with an orphanage in the Khasi Hills. After the project, I went on a three-day safari in the Kaziranga Wildlife National Park with a native guide. He was kind enough to go to great lengths to find many wonderful birds for me to see. Our lack of a mutual language limited my learning the names, but it allowed me to truly be in the present moment of watching the birds!