🦉 Screech Owl and Duck Boxes $20 OFF + Installation! 🦆
Many of our cavity nesters like Eastern Screech Owls, Barred Owls and Wood Ducks are without a place to nest due to the storms this year. In countryside settings, these birds find cavities in dead and dying trees, in urban areas, they often rely on man-made housing.
There is never a bad time to install one of these houses on a tree or a long pole - but now is the ideal time because owls are already seeking cavities to use for shelter during the coldest months.
Attracting backyard owls has an added advantage of natural mouse and rat control.
The photo below is of a red-phase Eastern Screech Owl who took up residence in the box of our team member, Brad Frye.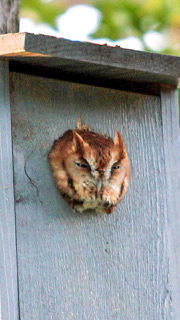 This $20 sale is available while supplies last, but we have owl and duck boxes all year.
Brad Frye, our professional installer and Certified Bird Feeding Specialst™, can come to your home or property.
Brad's schedule fills rapidly, so call us at (214) 891-9793 or visit us soon to get a box and book his time to install in your backyard!
For installation pricing, click here.
For beautiful bird photos, visit our Facebook Page.
Free Bird Seed Delivery
We have a couple of options to make bird feeding more convenient for you.

• One of our Certified Bird Feeding Specialists will take your seed order and deliver it directly to your home. We can look at your previous purchases or we can make seasonal recommendations to enhance your bird feeding experience. We can leave your bird seed on your front porch, stack it in your garage, or fill your seed cans. FREE local delivery is currently available on Tuesdays and Thursdays with a $100 minimum order. Please call with your order by 3:00 p.m. the day prior to delivery.
• We also offer online ordering at MyWBU Dallas where you can place your bird seed order and it will arrive via FedEx within a day or two in most cases. FedEx delivery to your door is FREE with a $75 order.
If you are a member of our Daily Savings Club you will receive a 15% discount and your Bird Buck points. Click here for more information about joining our Daily Savings Club.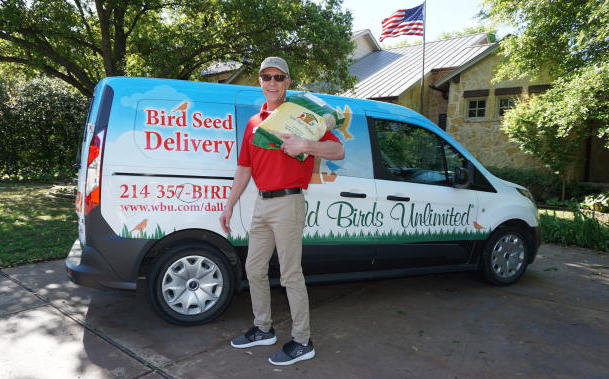 Call: (214) 357-2473 (BIRD)

Photo: Certified Bird Feeding Specialist and long-time employee, Brad Frye, delivering bird seed to one of our favorite local customers in our professional delivery vehicle.