Coming Soon!
We are receiving inventory, putting up signage, and tightening up the small details. We will announce an opening soon. If you are currently a member, look for a postcard in the mail in the next few weeks. We will keep you updated here as things unfold.
An artist's rendering of our new store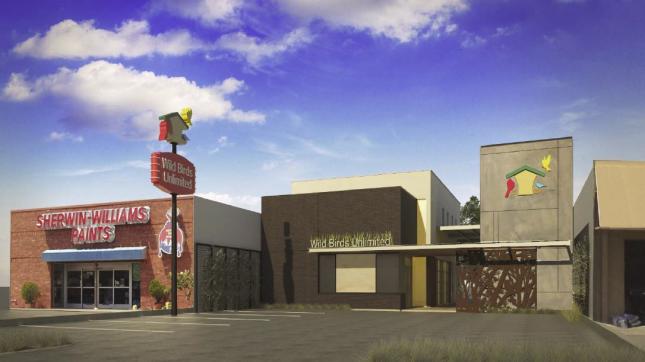 Don't Forget To Feed The Birds!
In the meantime, please shop one of the other Metroplex Wild Birds Unlimited stores. Please check each store's website because hours of operation vary.

6333 East Mockingbird Lane at Abrams
Dallas TX 75214
Phone: (214) 821-7400
http://eastdallas.wbu.com/

1660 W. Randol Mill Rd, west of N Fielder Rd
Arlington, TX 76012
Phone: (817) 275-1000
http://arlingtontx.wbu.com/

2704 Cross Timbers Rd., Ste 118
Flower Mound, TX 75028
Phone: (972) 874-1111
http://flowermound.wbu.com/
The closest one to our store is at 6333 East Mockingbird Lane, Dallas TX 75214, which is the NW corner of Mockingbird and Abrams in East Dallas in the Tom Thumb Shopping Center. It's on the corner of the shopping center on the Mockingbird side and you can't miss it.
Ron and his friendly staff are honoring the Daily Savings Club 15% discount on birdfood products if your name is on the list that we have provided them. DSC members will not accumulate birdbuck points but will get the birdfood discount.
Thank your for your patronage for the past 22 years! We have thoroughly enjoyed getting to know you and your birds (and squirrels). We'll see you soon in our brand new store near the tollway.
Happy Birdfeeding!