HUMMERS HAVE ARRIVED!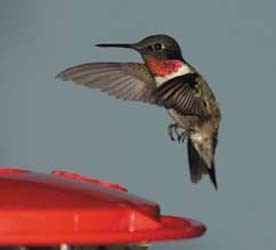 NEW! High Perch Hummingbird Feeder
Mike and Cecil Williams, the previous owners of the Wild Birds Unlimited in Bay Area of California, where they are lucky enough to have hummingbirds year-round, discovered that our window-mount hummingbird feeder was the preferred feeder in their yard, or at least the birds used it more. Other feeders were available closer to the hummingbird garden and further away from the house, yet the hummers still seemed to prefer the window-mount feeder.
After some study, Mike and Cecil figured out that it wasn't the location of the feeder, but the high perches, where the birds dip down into the nectar rather than stretch forward for it. Wild Birds Unlimited set out to develop a regular hanging feeder with the same feature. Last year, we introduced the 12 oz. High Perch Hummingbird Feeder. This year, we added an 8 oz. version, mostly for those of us who live in town, without the numbers of hummers we see in rural settings, mostly to our west.
If you already feed hummers, you know that two or more small feeders are better than one large one because the hummers are extremely territorial. If you can put two or more smaller feeders out and visually separate them where one dominant hummingbird cannot see both feeders from the same perch, say on opposite sides your house, you'll have more hummingbirds. The dominant bird will try to guard all the feeders in its territory but as soon as he runs one hummer away from one feeder, another hummer slips in to the feeder that's out sight. In time, you'll have 3 or 4 hummingbirds fighting over your feeders rather than just one dominant bird.
You are just in time for the best hummingbird watching in Dallas, which is now through mid-October.
Consider adding some plants that are hummer favorites. Next year, you'll be glad you did.
Don't forget the other birds this summer. A clean source of water for drinking and bathing is essential. We recommend a shallow birdbath with a dripper or Water-wiggler to attract the birds without creating a mosquito problem.
If grackles and squirrels start bothering you, which they sometimes do in late summer and early fall, consider offering safflower seed, which grackles and squirrels don't like, but cardinals, chickadees, house finches and doves relish.