🍂 Set Your Table for Your Wild Birds! 🍂
Many of you are thinking about Thanksgiving, and planning a feast for your loved ones over the holidays. What a great time to think about the pure joy of feeding your backyard birds!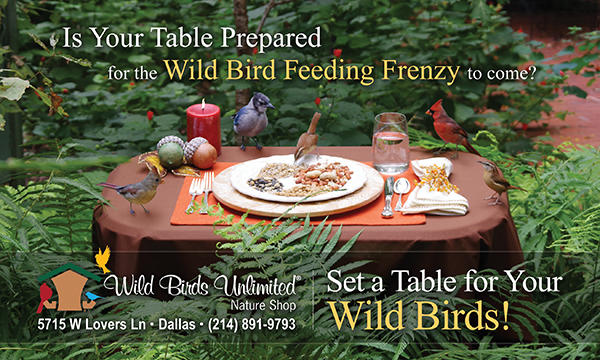 You may have noticed the slowdown in bird feeding activity at the end of the summer, as natural foods like seeds and nuts became abundant. Those natural foods are now being depleted by hungry wildlife or being covered up by falling leaves. What a great opportunity to invite your wild birds to a nutritious, high-fat meal. Goldfinches have already been spotted at feeders filled with fresh Nyjer™ and the most notable harbingers of winter, Dark-eyed Juncos, have been in small flocks scratching on the ground beneath the feeders.
Is Your Table Set for the Feeding Frenzy to come?
Join our Team
We are seeking a Sales Associate (part-time and full-time) with great retail and service skills. Working at your locally owned Wild Birds Unlimited store is an opportunity to support and educate our friendly customers about birds and nature.
Click Here to learn more and download an application.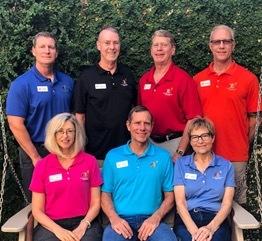 Seed Delivery
We have a couple of options to make bird feeding more convenient for you.
• One of our Certified Bird Feeding Specialists will take your seed order and deliver it directly to your home. We can look at your previous purchases or we can make seasonal recommendations to enhance your bird feeding experience. We can leave your bird seed on your front porch, stack it in your garage, or fill your seed cans. FREE local delivery is currently available on Tuesdays and Thursdays with a $100 minimum order. Please call with your order by 3:00 p.m. the day prior to delivery.
• We also offer online ordering at MyWBU Dallas where you can place your bird seed order and it will arrive via FedEx within a day or two in most cases. FedEx delivery to your door is FREE with a $75 order.
If you are a member of our Daily Savings Club you will receive a 15% discount and your Bird Buck points. Click here for more information about joining our Daily Savings Club.
Call: (214) 357-2473 (BIRD)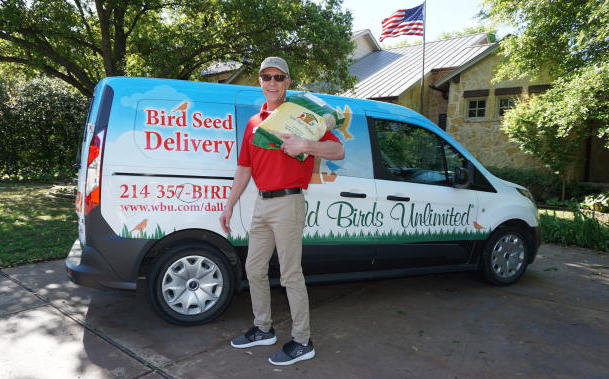 Photo: Certified Bird Feeding Specialist and long-time employee, Brad Frye, delivering bird seed to one of our favorite local customers in our professional delivery vehicle.